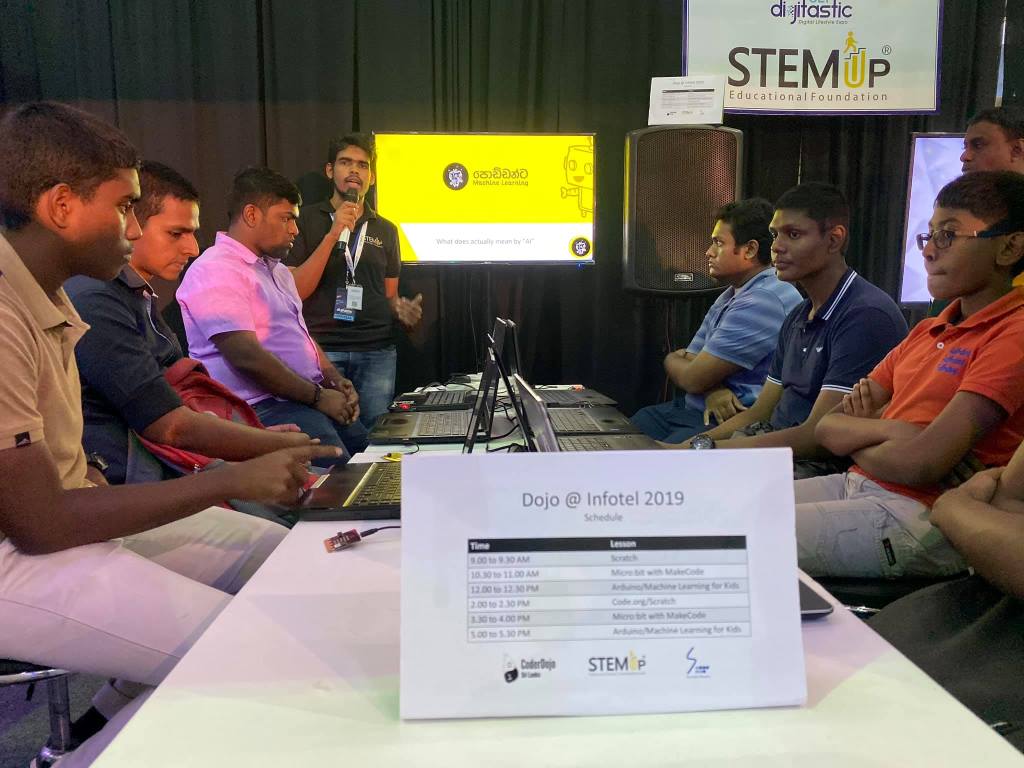 Prabhath Mannapperuma
5/16/2021
MillenniumIT ESP and STEMUp Partnership Strengthened by a Successful Year End Review
The objective of this partnership was to inspire and engage local students to become interested and opt to pursue degrees and careers in the Science, Technology, Engineering and Mathematics (STEM) fields in order to support STEMUp's newest mission of democratizing the knowledge and technology access of Artificial Intelligence (AI) to every student in the island.
The partnership has proven to create a great impact in the country and has led to the integration that was envisaged by MillenniumIT ESP. It has managed to encourage and drive student involvement and participation, thereby creating a new generation of technologically sound young individuals. This venture has acted to enhance access to knowledge, expertise and information that will transform lives and drive local students to reach new potentials, making ground making discoveries and advancements that will benefit society in leaps and bounds.
"Our partnership with STEMUp was primarily one of the ways by which we could contribute towards the development of Sri Lanka and the country's future generations. We are passionately driven towards enabling them to be ready for the revolving and evolving dynamics of tomorrow and thus be future-ready," commented MillenniumIT ESP's Director/Chief Executive Officer Shevan Goonetilleke.
"We are seeing enterprises all around the world rapidly adapting to emerging technologies such as Artificial Intelligence and Machine Learning to conduct business through innovation and efficiency. Therefore, preparing our younger generations to adapt and embrace such knowledge is a need of the hour and we believe we have been able to successfully contribute towards this development through our partnership with STEMUp," he further added.
Supported by the partnership, various activities were initiated around the island. Student focused training sessions were conducted across different schools including Ananda College Colombo, Gateway College Colombo, St. Paul's Girls' School Milagiriya, and Vidyaloka Central College, Balangoda. Other public in-person activities were organized to create awareness and share knowledge – these included attending the Infotel Exhibition and hosting a stall, as well as focused training for the Imagine Cup competition and coaching students at Gateway College Colombo. An impressive total of 1000 students and teachers were addressed during the year in review.
The sudden emergence and unexpected rise of the pandemic did not deter the journey nor restrict progress. Over 15 online sessions were conducted as a part of a webinar series for the "Machine Learning for Kids" program. These sessions were held during the weekends and were hosted in collaboration with MillenniumIT ESP, through live-streaming via the STEMUp social media platforms – Facebook, Twitter and YouTube. Plans are now underway to host more than 10 online sessions in the coming months.
Backed by decades of experience and expertise in technology, innovation, adaptation and transformation, MillenniumIT ESP has identified that Sri Lanka still struggles to be on par with global technology adaptation trends. This is mainly due to the inadequate number of IT professionals in the country and sharing of their technical knowhow with mass audiences. Going one step further, in addition to sharing expert knowledge around the country, MillenniumIT ESP provided internship opportunities to students following STEMUp programs.
"The STEMUp Educational Platform is not just a platform to learn STEM skills. It is also a great platform to showcase your talents to the rest of the world whist sharpening your leadership, team working and networking skills – abilities that you cannot master in any traditional university or college set up," stated Yasiru Geevinda, a Software Engineer Intern at MillenniumIT ESP's Emerging Technologies Team. "I joined the STEMUp Educational Foundation back in 2016 as a volunteer. We used to travel to several schools with my university colleagues, including rural areas, attempting to fill students' gaps in STEM skills. Afterwards, I received the opportunity to be the leader of the sub initiative of the STEMUp Foundation called 'Machine Learning for Kids' through which I was able to further sharpen my skills. Eventually, I was recruited by MillenniumIT ESP as a Software Engineer Intern. I am really passionate about Machine Learning and AI, so, STEMUp was a good platform for me to showcase my passion to the world and get hired by a great company, and most importantly work in the field I am really interested in," added Yasiru.
The STEMUp Educational Foundation supports the view that STEM literacy is a foundation skill that will be beneficial for all careers and will help to build critical thinking abilities, creativity and collaboration skills. Gaining STEM proficiency provides the base for these skills and grants the flexibility to adapt to frequent changes in the local and international employment arena.
Commenting on the success of the partnership, Indika Dalugama, Director, STEMUp Educational Foundation said, "The STEMUP Educational Foundation is always trying to introduce emerging technologies into the national education system. 'Machine Learning for Kids' is a good example of that. As we all agree, it is imperative that children understand how our world works when they come of an appropriate age to learn. The best way for kids to understand the capabilities and implications of Machine Learning is to be able to use and build systems with this technology themselves. I would like to thank MillenniumIT ESP for being an amazing partner to make this initiative a triumph."
MillenniumIT ESP is one of Sri Lanka's leading information system solution providers delivering IT solutions across various industries; including banking and finance, telecommunications, apparel and manufacturing, healthcare, construction, transportation, agriculture, government, public sector, and leading conglomerates. The company is a subsidiary of Ambeon Holdings PLC, a medium-sized conglomerate reputed for its market dominance in the areas of financial services, manufacturing, real estate, technology and strategic investments.
STEMUp is a volunteer base operation consisting of several programs such as Micro:bit SLUG, CoderDojo Sri Lanka, Raspberry Jam, and STEM Ambassadors, with each program having their own sub-projects. The Foundation runs several educational initiatives to get local students interested in STEM during early stages in their education journey.